AStroconcert is a multimedia project on communicating science through musical events and concerts combining live electronic music and narration. It was started in 2008 by composer and musician Angelina Yershova and Stefano Giovanardi, astronomer at the Planetarium and Astronomical Museum of Rome. The AStroconcert project aims at exploring new original formats for musical and scientific performances.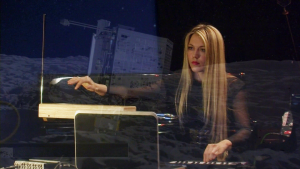 ANGELINA YERSHOVA  is a composer, pianist, producer, sound artist and improviser. Classically trained, she has developed her unique musical language, a deeply personal world that orbits freely through different music genres and does not conform to any stereotype or cliché. Angelina has graduated at the Kazakh Conservatory of Music (Almaty) in Piano Performance and Composition, at the K. Baiseitova Musical Collegein choral and symphony orchestra conducting and at the Conservatory of S.Cecilia (Rome) in Electronic Music. She has participated to several international festivals: International Rostrum of Electroacoustic Music (Lisbon), Staten Island Waterfront Festival (New York), Nuova Consonanza(Rome), EMUFest (Rome) and IlhomXX (Tasckent), amongst others.
Her artistic versatility has made her in demand in the most varied music fields. As a soundtrack composer she has won awards at the Fond Soros Film Festival (Kazakhstan) and at the Shaken's Stars (Kazakhstan), and has composed for the Almaty theatre Scena Nuova. Italy's national TV channels RAI and Mediaset have made extensive use of her music. She has collaborated with composer/inventors Mario Bertoncini e Simone Pappalardo, with rock band Belladonna as orchestra conductor, and with DJ/composer Ken Karter. With Stefano Giovanardi (astronomer of Rome's Planetary) she has founded the Astroconcert project. Angelina has opened two different channels for her own musical output: "Blind Movie Records", based in Rome and centered on her music for film and theater, and "Twin Paradox Records", based in Berlin and focused on her experimental electronic music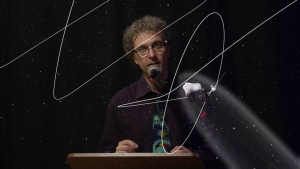 STEFANO GIOVANARDI  is an astronomer and science curator at the Planetarium and Astronomical Museum of Rome. He holds a master degree in Astronomy from the University of Bologna. He spent part of his career doing research at the Space Telescope Science Institute in Baltimore and at Columbia University in New York. He holds a Master in Communication of Science from the Sissa school in Trieste. Since 2002 he has been working in astronomy education and public outreach. He organized and participated to several national and international workshops. He was a member of the Interdepartment Working Group on the Development of Scientific and Technological Culture. He contributes to magazines and tv shows, namely, since 2011, Uno Mattina on the main Italian tv channel. He discovered the minor planet 1994QC and is author of more than 100 astronomical shows and other educational and outreach events.